CR24H, Gold
Car racing gold transparent chronograph.
Revolutionary watch:
Transparent watch
Sapphire movement
Supports car races.
Patent: Quinting Tech 1.
6 hands: hour and minute, date + hour, minute, second of the chronograph.
Leather strap.
Warranty: 2 years

Customized shipping

Authenticity certificate
Car racing 43 mm large gold chronograph.
It supports the constraints imposed by a race car.

100% transparent watch.
2 available colors.
Leather strap.
Hour and minute hands.
Date hand with AM/ PM indication.
Chronographs: hour, minute, second.
Its limited edition is composed of 24 transparent watches.



Starting Point: 24 Hours of Le Mans
In Le Mans, France, the first ever Swiss car that participated to the mythical 24 hours car race, was sponsored by Quinting.
This car race gathers 230 000 visitors and more than 1000 reporters every year. The media coverage of this event is estimated an average of 228 000 000 TV viewers. The broadcast on TV is more than 108 hours in 100 countries.
The three Swiss pilots, wearing Quinting CR24H chronograph, did show their talent.

The three first chronographs of this series are individually numbered with the drivers' blood group.
Unlike racing where the duration of the race is measured in laps or miles, in endurance car race it is based on time. There is a direct link to the importance of time and timing.
An error in timekeeping may result in driver's error. The race driver's watch has to be rugged and durable enough to withstand the high pressure. The Quinting CR24H chronograph which is a true technical feat embodies these two defining characteristics: it supports all the constraints imposed by a race car.



Revolutionary watch
Quinting Chronographs are the first transparent wristwatches in the world and the first watches using a sapphire movement.
High complication: this chronograph is composed of 256 elements. The movement is composed of 11 perfectly parallel transparent sapphire discs. 6 of which are mobile. Sapphire is a stone not a metal and has no elasticity. Like in 24h of Le Mans race, its assembly requires total precision.
Quinting chronographs reset in case of shock. Quinting manufacture was able to make this possible by placing a watchmaker inside the watch. To reset, one must push the chronograph buttons, and as if by magic, the counters will readjust simultaneously.

This object of perfection, of technical and aesthetic innovation will connect you to the best moments of the race.
With its uncompromising Swiss quality, this is one of the most exceptional chronographs in the world. Made for champions.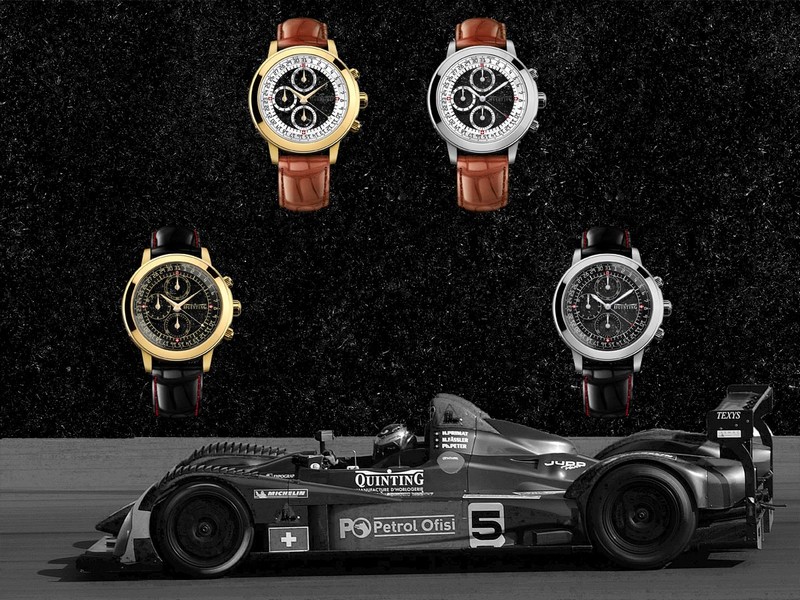 Data sheet
Quinting unique feature

100% tranparent watch

Mechanism

Sapphire movement (unique in the world)

Patent

Quinting Tech 1

Manufactured

Swiss watch made in Quinting manufacture by our watchmakers

Inner Watchmaker

Reset buttons in case of shock.

Case

18 carat gold

Sapphire discs

11: 6 mobile + 5 stationary

Watchstrap

Leather (alligator)

Hands

Hour, Minute, Date with AM/ PM indication, Chronographs (Hour, Minute, Second)

Diameter

43.80 mm

Thickness

14.00 mm

Waterproof

50 m (5 ATM)