Enigma, Leather Strap
Luxury transparent chronograph.
Revolutionary watch:
Transparent watch.
Sapphire movement.
Reset button in case of shock.
Movement: Quinting Tech 8.
5 hands: hour, minute + hour, minute, second of the chronograph.
Warranty: 2 years

Customized shipping

Authenticity certificate
43 mm large chronograph.
100% transparent watch.
Dial: 6 available colors.
Steel case. Leather strap.
Hour and minute hands.
Chronographs: hour, minute, second.

Revolutionary watch:
The Enigma is made of noble and precious materials.
The movement is composed of 10 perfectly parallel transparent sapphire discs. 5 of which are mobile. The Enigma is the first transparent wristwatch in the world. It is also the first watch using a sapphire movement.
Sapphire is a stone and has no elasticity. Unlike metal, it requires total precision. That is why the Enigma is a masterpiece of precision.
Quinting chronographs reset in case of shock. Quinting manufacture was able to make this possible by placing a watchmaker inside the watch. To reset, one must push the chronograph buttons, and as if by magic, the counters will readjust simultaneously.

This object of beauty and perfection, and technical and aesthetic innovation does not go unobserved. This is a watch for someone who wants to be talked about.
With its uncompromising Swiss quality, this is one of the most exceptional chronographs in the world that expresses originality and offers its wearer a unique personality.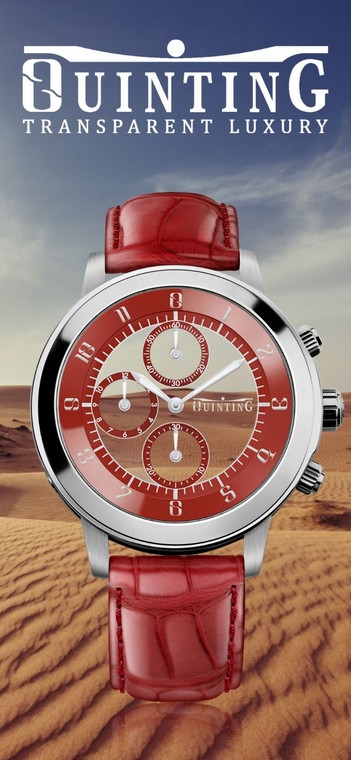 Data sheet
Quinting unique feature

100% tranparent watch

Mechanism

Sapphire movement (unique in the world)

Patent

Quinting

Manufactured

Swiss watch made in Quinting manufacture by our watchmakers

Inner Watchmaker

Reset buttons in case of shock.

Case

Stainless steel

Sapphire discs

10: 5 mobile + 5 stationary

Watchstrap

Leather (alligator)

Hands

Hour, Minute, Chronographs (Hour, Minute, Second)

Diameter

43.80 mm

Thickness

14.00 mm

Waterproof

50 m (5 ATM)