Mysterious Chronograph
This extraordinarily extravagant chronograph escapes from the classical criteria of appreciation and is considered as the reference for the new generation.


Mysterious Quinting is a masterpiece of precision, made of noble and precious materials. Pure and essential, this is a watch that will last.


This object of beauty and perfection, and technical and aesthetic innovation does not go unobserved and arouses an irresistible urge to touch. Beautiful and exclusive, this is a watch for someone who wants to be talked about.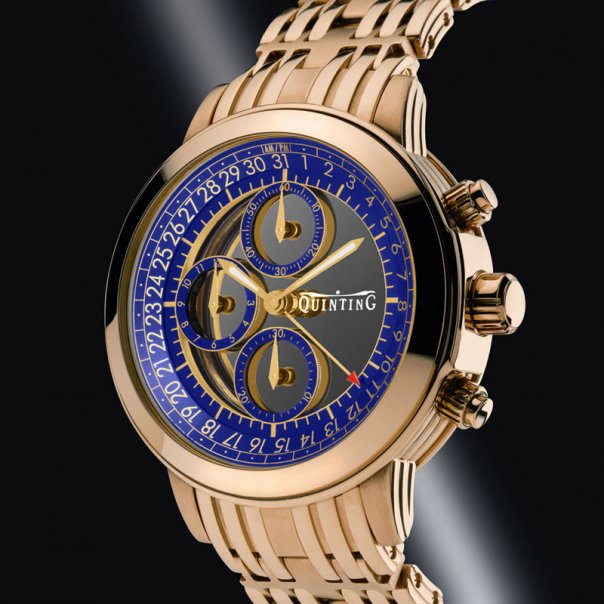 11 sapphire discs
The chronograph contains 11 layers of sapphire. As the whole watch houses a total of 6 hands (hours, minutes, dates, chronograph hours, chronograph minutes and chronograph seconds), there are 6 mobile sapphire discs, the other 5 are stationary.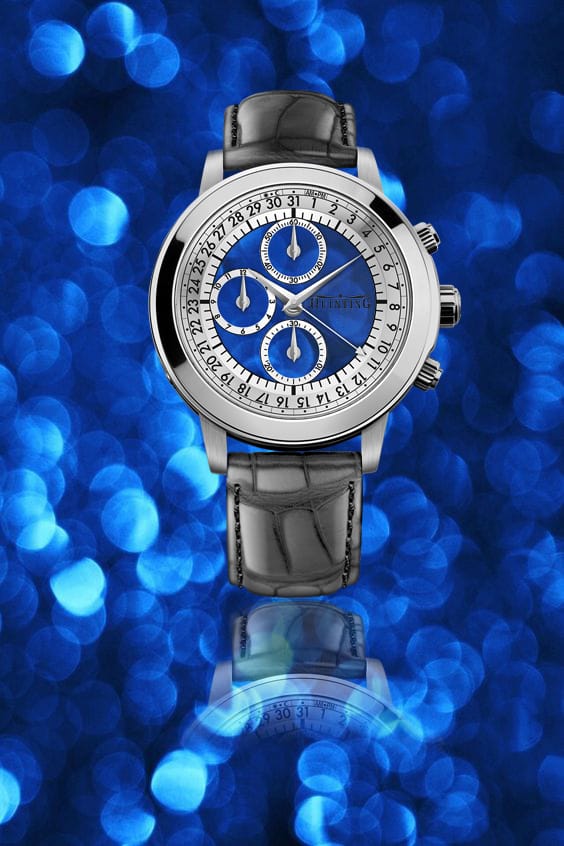 Mysterious Little Inner Watchmaker
Quinting chronographs reset in case of shock.
Quinting manufacture was able to make this possible by placing a watchmaker inside the watch. When the hands of the chronographs are no longer at 12 am due to shock, the mechanism automatically disengages the wheels. To re-engage the wheels, one must push the chronograph buttons, and as if by magic, the counters will readjust simultaneously.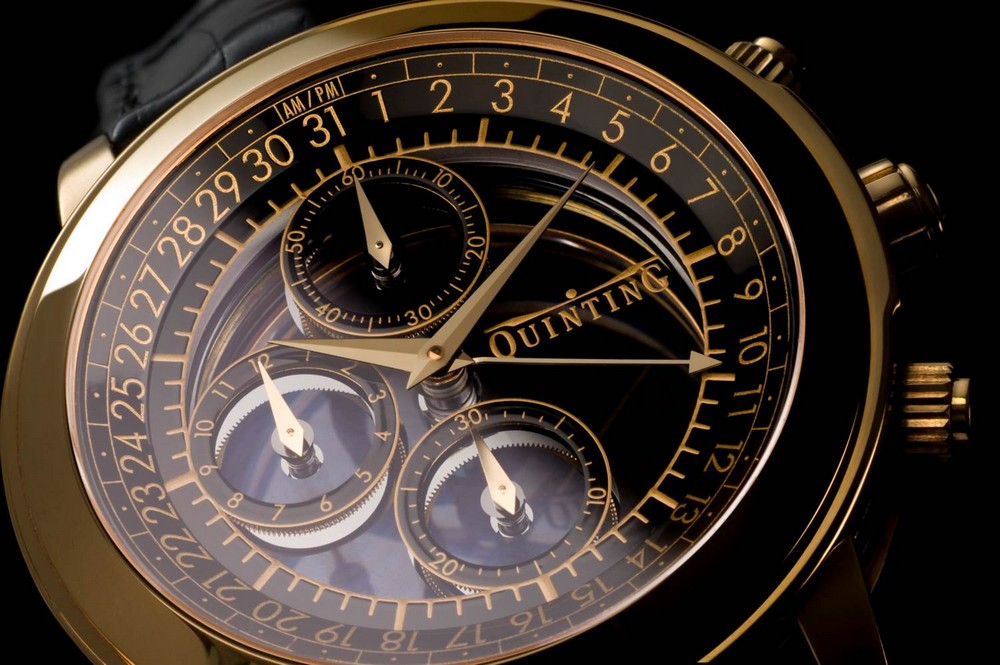 Design and Swiss Quality
Quinting is eye-catching and easily recognizable not only because of its large form, bold design and originality, but also because it has class and a timeless appearance. With its distinctive look and uncompromising Swiss quality, this is one of the most exceptional chronographs in the world that expresses originality and offers its wearer a unique personality.


The large case puts Quinting Mysterious Chronograph right in step with the current trend for oversized watches.


In order to be totally unique, the movement and the back of the case are engraved with an individual serial number.


Quinting Tech 1 (1995) patent.


Steel Case, Blacktop or Gold 18 ct (Pink, White or Yellow)
 - or 60 Diamonds-set Case (1.38 ct)
 - or 232 Diamonds-set Case, Dial and Horns (2.516 ct)
 - or Baguette Diamonds (4.73 ct) and Sapphires (0.49 ct)
Leather Strap (Alligator), Steel or Gold
Available in White, Blue, Red, Brown, Black, Steel, all Gold
Diameter: 43.80 mm
Thickness: 14.00 mm
Hour/ Minute
Date with AM/ PM indication, except those with 232 diamonds
Chronographs: 3 little dials with seconds, minutes and hours timer:
  • Seconds timer at 12
  • Minutes timer at 6
  • Hours timer at 9
Water Resistant: 50 meters (5 ATM)
Movement composed of 11 perfectly parallel sapphire discs with an anti-reflection coating
Reset buttons in case of shock.