Mystic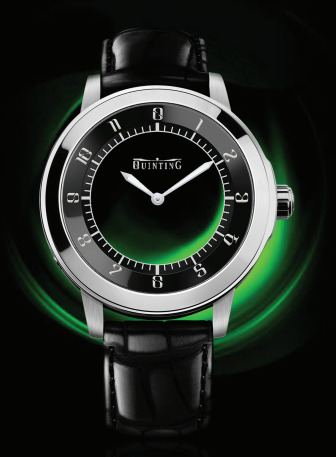 Quinting watches possess the mystical power of attraction. The hour and minute hands seem to float on the wearer's wrist, as if suspended by magic.


With the same dimensions as Quinting "Mysterious," "Mystic" is Quinting's two hands model.


High complexity
Quinting watches do not show their complexity. Their mysterious clockwork movement is the fruit of more than 170 components all manufactured exclusively for Quinting.
This complex watch emerges from an entirely "mysterious" fabrication technology that is unique to the world.
7 sapphire discs specially plated and treated with an antireflective coating give the dial its perfect transparency. Two sapphires are mobile (speed of the hour and the minute) and the other ones are stationary.


100% Transparent
With its two hands (hour and minute), the Mystic is undoubtedly the purest Quinting model. So the most mysterious.


Quinting Tech 5 (2007) patent.
Stainless steel Case, Blacktop or Gold 18 ct (Pink, White or Yellow)
- or 60 Diamonds-set Case (1.38 ct)
- or 232 Diamonds-set Case, Dial and Horns (2.516 ct)
Leather Strap (Alligator) or Gold
Diameter: 43.80 mm
Thickness: 14.00 mm
Available in White, Blue, Red, Black, Steel, Brown, all Gold
Hour/ Minute
Water Resistant: 50 meters (5 ATM)
Movement composed of 7 perfectly parallel sapphire discs with an anti-reflection coating.