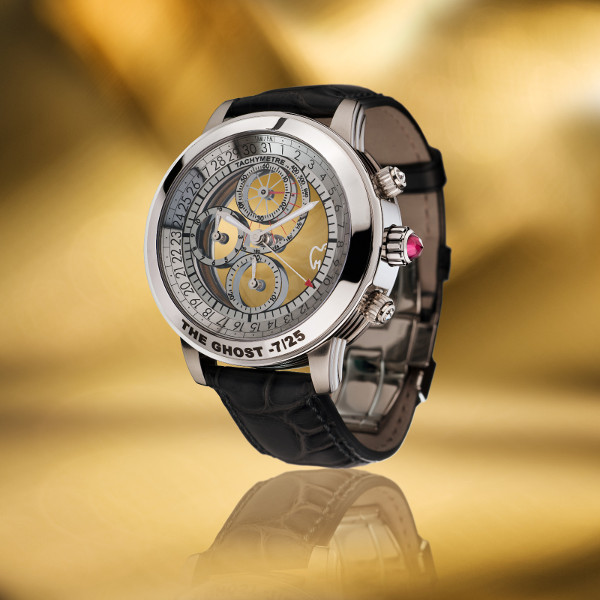 Innovation
Quinting's movement stemmed from the desire to see time told through hands floating on a watch wearer's wrist. This is made possible by superposing several thin, previously metallised, sapphire discs given an antireflection coating. It is with this very complicated system of stationary and moving sapphire discs that the watch runs.
With the exception of 7 parts, including the hands, all the components of a Quinting watch, numbering 230 and 26 sub-assemblies are manufactured exclusively for Quinting. The watches are assembled by hand at the Manufacture in Geneva, Switzerland.
Since the creation of the first chronograph released on the market (movement: Quinting Tech-1), Quinting developed 4 more 100% transparent movements: Quinting Tech-2, 4, 5 and 6.
An unique know-how
It is a pleasure to hold something in your hand with the knowledge that whoever made it took extra care and time to make sure it's perfect. Quinting watches are one of those exceptional objects.
The movement is impossible to copy. No fakes exist, nor will they. It is the first and only 100% transparent movement, and the first and only sapphire movement.
The extremely delicate operation of fabricating Quinting's movement is performed in a white room (dust free) to ensure perfect transparency. The movement is 100% transparent, because the mechanism is in sapphire. This advanced technique however requires an elevated level of precision and knowledge. Unlike other complicated watches that have metal toothed discs, complicated Quinting watches contain wheels composed of sapphire, rubber, and metal. This characteristic demands high quality workmanship and absolute precision from the watch maker, placing Quinting watches among the most sophisticated and complex on the market.
A complicated movement in metal allows the watch maker to work at 80% precision. When a hole is pierced in the metal piece, even if the hole is not perfectly centred, the watchmaker will still be able to place the piece, because metal is an elastic material.
Quinting's sapphire movement requires 100% precision from the watchmaker due to the fact that the mineral is not elastic. When the watchmaker makes a hole in a sapphire piece, the hole must be perfectly centred because the mineral is a hard and non-elastic material.