owners of Quinting Dove of Geneva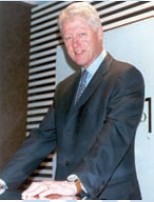 Bill Clinton
Former President of the USA
When Bill Clinton went to Tokyo, he went to Douze, one of the jewelry boutiques where Quinting is found in Japan. Once there he sought out the Dove of Geneva. "The use of force and intelligence are not inevitably exclusive one of the other" (Bill Clinton) He is now wearing the Dove of Geneva n° 001, the USA piece.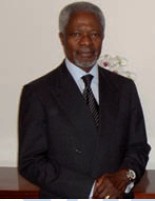 Kofi Annan
7th Secretary General of UN
The prestigious World Organization for Peace (WOFP), whose members include note-worthy personalities like Bill Clinton and Nelson Mandela, chose Quinting to reward Kofi Annan's commitment to the fight for Peace in the world. Kofi Annan, Secretary General of the United Nations (from 1997 to 2006) and Nobel Peace Prize winner, is a distinctive dignitary of the peace.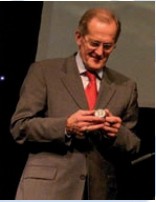 Joseph Deiss
Former President of the UN
On December 14th 2009, Joseph Deiss was designated the future president of the 65th session of the General assembly of the United Nations. His official debut was September 14th 2010. The CEO's club of Geneva offered the famous Quinting chronograph "The Dove of Geneva" to the Swiss President, Joseph Deiss in November 2004.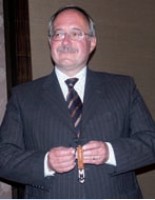 Samuel Schmid
Former President of Switzerland
On June 5th 2006, Samuel Schmid (President of Switzerland in 2005) was given the Dove of Geneva by Quinting's president, Pascal Berclaz. This was a gift from the UN's ambassador club of Geneva. In front of more than 500 people, Samuel Schmid was honored to promote Peace with the Dove of Geneva like Pascal Couchepin and Joseph Deiss.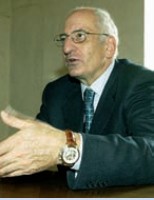 Pascal Couchepin
Former President of Switzerland
Pascal Couchepin was elected as President of Switzerland in 2003 and 2008. He is also a former member of the Swiss Federal Council (1998 - 2009). On the September 29th 2003, he was given the famous Dove of Geneva by Quinting's President Pascal Berclaz. This prestigious gift was presented by the UN ambassador club from Geneva.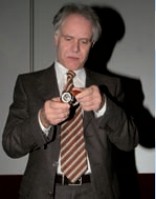 Maurice Leuenberger
Former President of Switzerland
Moritz Leuenberger was first a lawyer and a member of the Swiss socialist party. He was also a member of the Swiss Federal Council from 1995 to 2010 as a representant of the Social Democratic Party (SPS/ PSS). He was elected President of Switzerland in 2001 and 2006. After his election, he retook the Federal Department of the Environment, transports, energy and communication.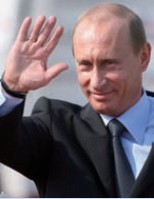 Vladimir Putin
President of Russia
Vladimir Putin, one of the most popular men in Eastern Europe, was President of Russia from 2000 to 2008. He was also rime Minister from 1999 to 2000 and from 2008 to 2012. He is currently once again President of Russia and recommended Quinting in one of the most famous russian business magazines, as a symbol of peace.
Sheikh Khalifa bin Salman Al Khalifa
Prime Minister of Bahrain
During Bahrain's International Fair, 6 Dove of Geneva chronographs, intended for the 6 countries of Middle East that are part of the United Nations, were showcased in the middle of central alley of Hall 1. The 6 countries and their numbers are the following: Saudi Arabia (18), Kuwait (113), Bahrain (129), Qatar (131), Oman (132), and the United Arab Emirates (133).





Arts and Sports Ambassadors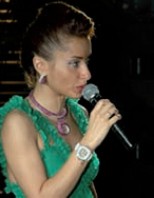 Tina Kandelaki
TV Star, Russia
Born in Georgia, Tina wears now different hats in Russia, particularly journalist, TV and radio presenter or producer. She notably graduated from the Foreign Affairs Department of the Russian State University for the Humanities in 2008. Woman of medias she is also the co-owner of Apostol Media Group, a diversified media company offering PR services and TV-programs.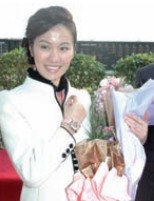 Michelle Ye
Movie Star, Hong Kong
Originally from China, Michelle Ye Xuan is a Hong Kong actress raised in USA until age of ten. She won Miss China International title in 1999, representing New York. Then began her actress career with more than fifty TV and cinema productions. She recently won a Hong Kong Film Awards for Best Supporting Actress and started her own production society.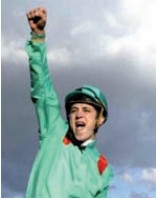 Christophe Soumillon
Jockey, Belgium
Absolute record holder of the horse races won in France in the same season (226, in 2005), Christophe is one of the rare jockeys with more than 1'000 victories in France. Married since 2006 to Sophie Thalmann, Miss France 1998, he is one of the greatest jockeys still in competition, with notable victories in Dubai, Vincennes or Japan amongst others.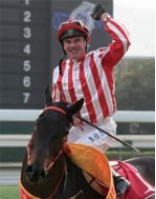 Eric Legrix
Jockey, France
International competitor, this French jockey used to live in Hong Kong. He won many high-level races such as the Queen Elizabeth II Cup, the Lonchamp Group 1 flat horse race "Prix du Cadran", the North-American Breeders' Cup Team or the Hong Kong Derby. He is now using his high technical skills as a totally special and highqualified trainer.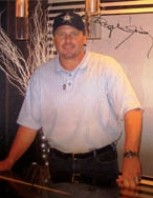 Roger Clemens
Pitcher, USA
Roger Clemens is one of the greatest pitchers in the History of American baseball. He totalizes 354 victories in Major League Baseball, what is the best result since 1950. From the Boston Red Sox to the Yankees, he won seven Cy Young Awards, the AL Most Valuable Player Award, the All-Star Game MVP Award in 1986 and the World Series titles with the Yankees in 1999 and 2000.
Gérard Depardieu
Actor, France
WIth more than 100 cinemaproductions directed with the biggest names of cinema such as Marguerite Duras, François Truffaut or Ridley Scott, Gérard Depardieu is certainly one of the biggest actors Europe never had. He was recognized for his work with numerous awards such as two Césars for Best Actor, one Golden Globe or one Cannes Film Festival.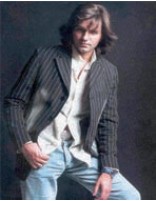 Dmitri Malikov
Rock Star, Russia
Dmitri Malikov is a Russian producer, pianist, composer and singer. Born in Moscow, he draws artistic influences from his parents, as his mother was a dancer and his father a musician. He notably proved his talent winning high-recognized awards: Meritorious Artist of Russia (1999), World Music Award (1995), People's Gold Grammophones (1996-1999) and Hundred-Percent Hits (1998-2000).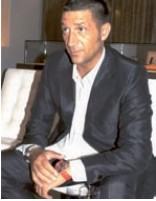 Panzetta Girolamo
TV Star, Japan
TV Star, essayist, author, voice actor, man of fashion; this Italian native lives and works for a while in Japan. Trained architect, he moved to Japan in 1986 and operated to popularize authentic Italian cuisine there. Stepchild of a Fukushima native he is fighting since 2011 tsunami and quake to help the areas hit by the disaster. He never hesitates to appeal for donations when needed.