The Dove of Geneva, Yellow/ Pink/ White Gold
The watch of Presidents working for peace

18 kt gold transparent chronograph.
Two doves, peace symbols, become one for one minute every hour.
They fly inside a revolutionary watch:
Transparent watch.
Sapphire movement.
Reset button in case of shock.
Patent: Quinting Tech 1.
6 hands: hour, minute, date + hour, minute, second of the chronograph.
Leather strap.
Warranty: 2 years

Customized shipping

Authenticity certificate
The Dove of Geneva is a symbol of Peace.
It is made of noble and precious materials.
Two white doves "fly" inside of the transparent sapphire movement of the watch made of gold. One dove is painted on the minute sapphire disc and the other on the hour sapphire disc. The two doves superpose for one minute every hour.
Peace is the work of democracies. We have created this watch in a limited collection of 192 unique pieces, equal to the number of countries in the UN. On each watch casing is a number which references the date of the entry of a country into the UN.
When we look at this transparent peace watch, we can see the person who wears the watch. The transparency of this watch symbolizes that the person who wears it is an actor of peace. This piece will be a daily reminder of these symbols to the one who wears it and that he or she can be the builder of a better humanity.

43 mm large chronograph.
Yellow, pink or white gold.
100% transparent watch.
Hour and minute hands.
Date hand with AM/ PM indication.
Chronographs: hour, minute, second.
The Dove of Geneva resets in case of shock. Thus, peace comes back easily. To reset, one must push the chronograph buttons.


Worn today by numerous Presidents (Bill Clinton, Vladimir Poutine, Joseph Deiss, President of the United Nations, several President of Switzerland, Kofi Annan, 7th Secretary General of the United Nations, etc.), this chronograph has been renamed "The watch of Presidents".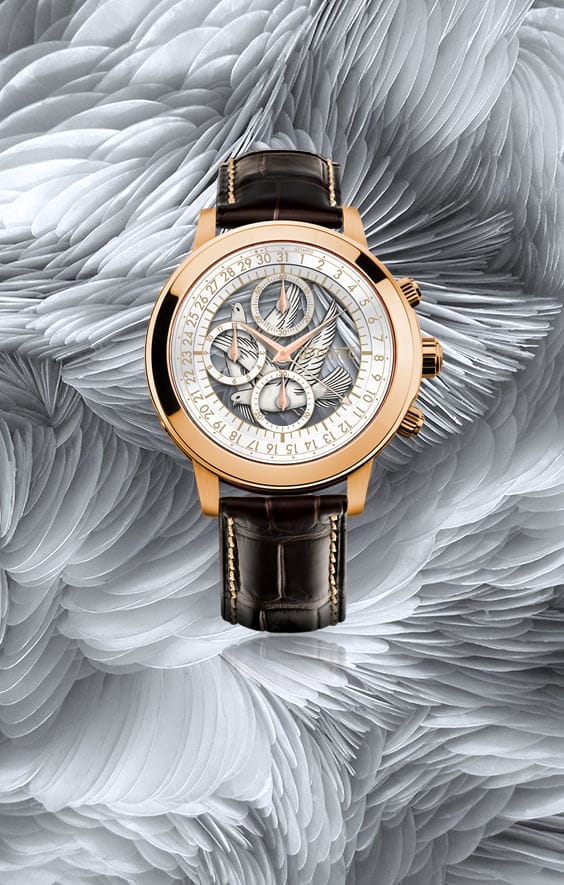 Data sheet
Quinting unique feature

100% tranparent watch

Mechanism

Sapphire movement (unique in the world)

Patent

Quinting Tech 1

Manufactured

Swiss watch made in Quinting manufacture by our watchmakers

Inner Watchmaker

Reset buttons in case of shock.

Case

18 carat gold

Sapphire discs

11: 6 mobile + 5 stationary

Watchstrap

Leather (alligator)

Hands

Hour, Minute, Date with AM/ PM indication, Chronographs (Hour, Minute, Second)

Diameter

43.80 mm

Thickness

14.00 mm

Waterproof

50 m (5 ATM)