Lady Dove
Transparent watch.
Two doves, peace symbols, become one for one minute every hour.
They fly inside a revolutionary watch:
Transparent watch.
Sapphire movement.
Compensating movement: the Cyclone.
Patent: Quinting Tech 2.
3 hands.
Leather strap.
Warranty: 2 years

Customized shipping

Authenticity certificate
The "Lady Dove" is a truly feminine and exquisite watch. It is a symbol of Peace.
Two white doves "fly" inside of the transparent sapphire movement of the watch. One dove is painted on the minute sapphire disc and the other on the hour sapphire disc. The two doves superpose for one minute every hour.
Peace is the result of large and small acts.
It begins with the education of children, which lays the foundation of societal values and is expressed in kindness, charity, hard work, patience and a sense of purpose. It continues with working for a better future, calling for reconciliation, address poverty and denouncing every form of child abuse. She may battle for access to land and clean water, or organize vigils.
Whether mother, caregiver, lawyer, poet, scientist or president, women play a major part in building and promoting peace, within their society, every hour of their lives.
The white dove on the sapphire disc of the minute hand represents every waking minute of her life
This watch will be released in a limited edition of 192 timepieces, the number corresponding to the member countries of the United Nations.
Hour, minute and second hands.
Leather strap.

Revolutionary Watch
The Cyclone compensates the gravity effects and all the effects induced by the wrist movements. It is the first movement in the world able of such compensation for wristwatches.
The movement is composed of 9 perfectly parallel transparent sapphire discs. No other watch in the world is transparent or uses a sapphire movement apart from Quinting.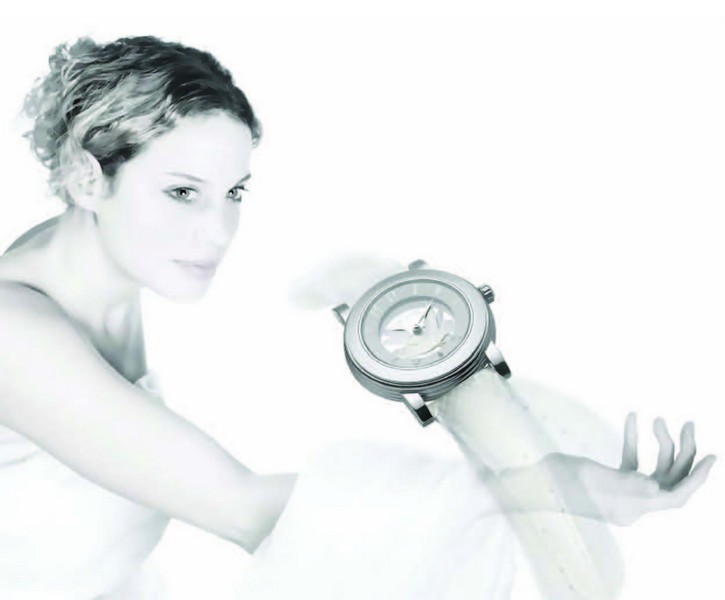 Data sheet
Quinting unique feature

100% tranparent watch

Mechanism

Sapphire movement (unique in the world)

Patent

Quinting Tech 2 (2004)

Manufactured

Swiss watch made in Quinting manufacture by our watchmakers

Cyclone system

compensates the gravity effects and the effects induced by the wrist movements

Case

Stainless steel

Sapphire discs

9: 4 mobile + 5 stationary

Watchstrap

Leather (alligator)

Hands

Hour, Minute, Second

Diameter

38.00 mm

Thickness

10.00 mm

Waterproof

50 m (5 ATM)